Want A Free Monitoring Software Solution?
Download Free Activity Monitor or Free Email Recording software to record incoming and outgoing emails, visited websites, msn messages, and FTP transferred files.
Read more...
Free Solution for Computer Monitoring
SurveilStar develops Free Activity Monitor and Free Email Recording which allow you to secretly monitor all activities:
Record Sent & Received Mails
Record Visited Websites
Block Internet Connections
Record Transferred Files
Generate Detailed Statistics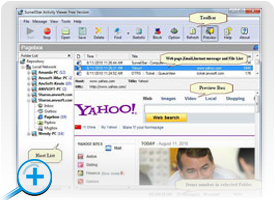 Download Free Activity Monitor

Powerful yet easy-to-use free web activity monitoring software. Record, monitor and block any web activities as you like. Watch what your children, spouse or employees are doing on the internet! Download Now!

Control sent &received email and HTTP webmail(Hotmail, Gmail, Yahoo mail).
Monitor and record visited websites with time stamp, title, size and URLs.
Keep track of every downloaded and uploaded FTP files.
Record MSN chats and Windows messages.
Filter unwanted websites by file size, host name or IP address.
Blocking internet TCP connections and outgoing TCP data.
Generate accurate statistics of history mails, visited websites, ftp files.
Password protected and user friendly.
Download Free Email Recording

Totally FREE software. Tracking, filtering and Searching any email as you like. Protecting your children from sending and receiving impropriate emails! Preventing confidential leaking from emails! Download Now!

Record ALL e-mails that are POP3/SMTP based.
Record and save ALL e-mail's from web based e-mail services.
Filter emails by file size, host name or IP address.
Easy email tracking by clients' name, e-mail recipient, sender, and subject.
Block POP3/SMTP mails and HTTP webmails
Quickly search all the recorded e-mails by sender, receiver, subject, message, date range, and mail size.