---
Upgrade SurveilStar to Latest Version
If you have been using SurveilStar for some time, please check Version Upgrade History and make sure you are running the latest version. Generally speaking, the latest version will fix some bugs and add some more useful features. Not using latest version of SurveilStar? Download upgrade package now.

More Download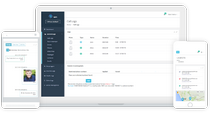 PanSpy Mobile Monitor is a professional monitoring solution provider specializing in tracking and monitoring tools for smartphone users. It allows parents monitor text messages, calls, current GPS location, SnapChat, WhatsApp and many more on their children's device. Learn more >>
---
Download SurveilStar User Manual
Read detailed guidelines on how to deploy and use the program. It's especially helpful for IT manager. Please choose the document format you like to download. Zip file includes both PDF and Doc formats.
What You Need
SurveilStar monitoring system requires a SQL data server to store and feed the collected data. SurveilStar Version after 3.27 supports SQL Server 2008 Express Edition as the built-in database engine.
Microsoft® SQL Server® 2008 R2 Express is a powerful and reliable data management system that delivers a rich set of features, data protection, and performance.
Before installing SQL Server, you may need to update Windows Installer, .Net Framework and Windows PowerShell.
Note: If you have installed a previous version of SQL Server and don't need SQL Server 2008, please uncheck Microsoft SQL Server 2008 Express Edition when installing surveilstar.
System Requirements
OS
Basic
Recommended
SQL Server 2008
Win XP/7/8/10/2003/2008/2008 R2
32-bit systems: Computer with Intel or compatible 1GHz or faster processor
64-bit systems: 1.4 GHz or faster processor
2 GB RAM
2.2 GB Hard disk space
Server
Win2000 SP4/XP SP2/2003 SP1/Vista/7/8/10/2008
Pentium III 500/256MB
10GB Hard disk space
Pentium 4 2G/512MB
50GB Hard disk space
Console
Win2000 SP4/XP/2003/Vista/7/8/10/2008
Pentium 166/64MB
10MB Hard disk space
Pentium III 1G/256MB
100MB Hard disk space
Agent
Win Me/NT4/2000/XP/2003/Vista/7/8/10/2008
Pentium 166/64MB
10MB Hard disk space
Pentium III 500/128MB
10MB Hard disk space