SurveilStar Web Monitor safeguards your network
Websites: Control Internet access and prevent Internet abuse
Emails: Record emails and prevent data leakage
MSN chats: Record MSN chats and control file transfer
File transfer: Record and control all files uploaded & downloaded
Compatible systems: Win2000 SP4 / XP SP2 / 2003 SP1 / Vista / 2008 / Win7 / 8
Supported email apps & services
Yahoo Mail, Gmail, Hotmail
Other web mails
POP3, SMTP, IMAP mails
Outlook & Outlook Express
Mozilla Thunderbird and more email clients
Introducing SurveilStar Web Monitor

SurveilStar Activity Monitor is a 30-day free web activity monitoring application. It specializes in monitoring, recording and controlling Internet activities, including website visits, emails sent and received, MSN Messages, and file transferred via the Internet.
SurveilStar Activity Monitor can be either installed on a hub server to monitor the entire local area network, or installed on a single computer to monitor web activities on that computer.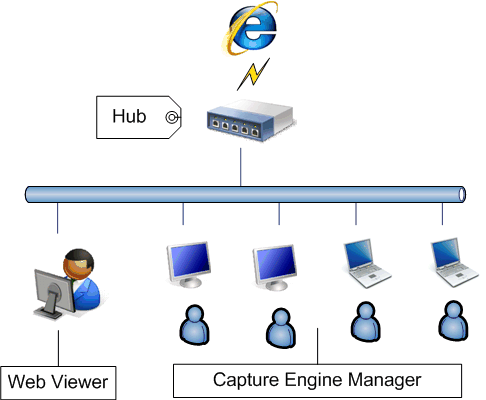 Learn how to install SurveilStar Web Monitor
Features of SurveilStar Activity Monitor
Record all visited web pages with URL link, visiting time, page title, web host and data size
Record all incoming and outgoing web emails including sender, receiver, time and detailed contents
Record all emails sent and reveived by email clients including Outlook, Outlook Express, Thunderbird and more
Record all downloaded and uploaded data via browsers
Support all unencrypted POP3, SMTP and IMAP emails
Record all FTP transfer activities including upload and download
Record all MSN messages either sent or received
Block internet TCP connections including POP3/SMTP mails, http webmails, FTP and others
Block outgoing connections including SMTP mails, http webmails, FTP and others
Comprehensive statistic and report functions
Support setting password protection to prevent unexpected abuse
Feature Outlook Express style of user interface
Wanna know what your employees are doing duration the work time? In many workplaces, employees need internet to investigate the market for a product, or contact a business partner using emails or MSN, or promote on forums and marketing platforms. However, some of the users may take time out to view YouTube videos, twitter, facebook or other social networking websites, send mails to non-business persons. Want to find an employee monitoring application but most of them are expensive? Do not hesitate any more, try SurveilStar PC Monitor. It provides 30-day full trial for monitoring 5 PCs.
SurveilStar PC Monitor can be also used for parental control and checking spouse loyalty.
What can SurveilStar Activity Monitor do?
Control Internet access
Prevent email and Internet abuse
Prevent data leakage through email and the Internet
Record employee's emails and Internet activities for later review
Excellent Free Employee Monitoring Solution
SurveilStar Web Monitor takes the recorded Internet activities from each of your employees, feeds that information into a database and provides you with reports and customization to answer questions like:
Which employees are spending the most time surfing web sites?
Who is spending time on shopping sites, sports sites or adult sites?
Which employees chat or use anonymous email services like Hotmail and Gmail?
Who is sending the most emails with attachments?
SurveilStar PC Monitor provides a powerful solution for web activity monitoring and controlling. This 30-day free web activity monitoring software can record visited websites, incoming and outgoing emails with detailed content and attachments, downloaded and uploaded FTP files and all sent and received MSN messages. SurveilStar Activity Monitor can also help you to block internet connections including Web, Email and FTP.
Google, Yahoo, MySpace, Facebook, or YouTube … Whatever website they visited, SurveilStar Web Activity Monitor records the website browsing history. Visiting time, visited URL, page title, page size and even the web host are recorded. It's convenient for later review.
SurveilStar Web Activity Monitor supports POP3, SMTP, IMAP and web mails. Any incoming and outgoing emails will be recorded with its file attachments, if any. This feature is very critical for protecting corporate data. The search features makes it easy to find emails by sender, receiver, subject, content, date range or folder name.
Files uploaded or downloaded through the network including browsers, FTP clients, will also be recorded. The web monitor can keep a copy of the file for backup and later review.
It can also restrict internet access of specified computers based on the rules set by user to prevent leakage of sensitive data or abuse of Internet access.
Web pages, files uploaded or downloaded, emails and email attachments, all information that comes in or goes out of the network will be taken down and archived by SurveilStar Activity Monitor, the loyal web watcher that helps safeguard your business. Administrator can retrieve the archived data at any time if necessary.
The report and export features make it even easier to review your employees' Internet and email activities.
SurveilStar Web Activity Monitor provides a dynamic solution for monitoring only those who need to be monitored. SurveilStar Web Monitor can restrict internet access of specified computers based on the rules set by IT administrator. It's totally up to you.
And the Web Activity Monitor system can be protected by password, only IT administrator, supervisors and those who are authorized by administrator can access to the monitoring system.
Free Parental Control Software for parents
Surveilstar Activity Monitor can be installed on a single machine to monitor your child's web activity. With this 30-day free parental control software, parents can know their children better and lead them to grow up normally.
SurveilStar Activity Monitor help the parents to keep their children from online predators and know them better about:
What websites are they interested in? Are they addicted to porn, violence or any other dirty things?
Whom they are chatting with? What topics are they interested in?
Do they contact any strangers via emails? Are they led into dangerous temptations?
Check your spouse loyalty
Surveilstar Activity Monitor can be also used to check your spouse loyalty by viewing their chats and emails. With using SurveilStar Activity Monitor, you can know:
Has my loved one been honest with me? who they frequently communicate with?
Are they having any inappropriate relationships online?
What is really going on in your loved one's life?